I've been busy making some new kits to sell at MtA but I also have a new freebie as well. First up is the Tropical Days Kit. The kit is available in two sizes, a $4 Taggers size with papers 500 x 500 for personal, online use and a $6 Commercial Use size with papers 2400 x 2400 for scrap for hire projects and the like.
Kit Contains:
9 papers
5 glitter tiles
5 ribbons
5 bows
1 painted cardboard alpha
1 hibiscus border
1 pearl frame
2 hibiscus charms
3 organza butterflies
5 floral doodles
3 photo frame clusters
3 organza flowers
Click on the preview to shop at MtA.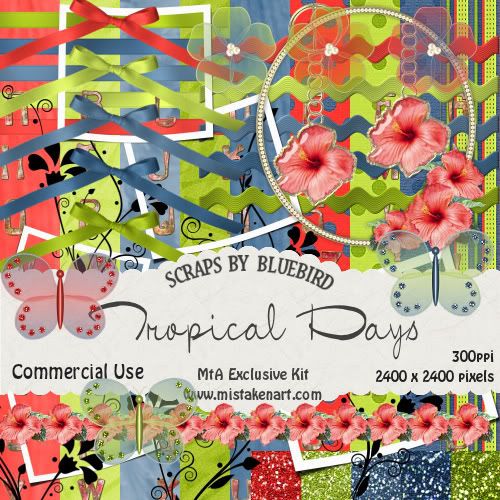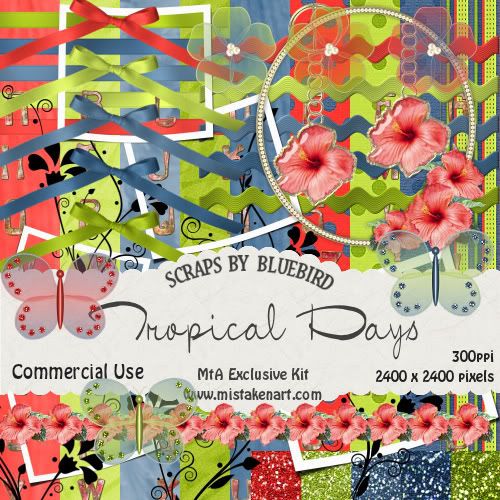 And the
freebie
- On The Beach. This kit was made using photographs from our recent trip to Hervey Bay and like the MtA kits, comes in two sizes. You can use the full size kit for Scrap 4 Hire, etc - TOU are in the download.
Kit Contains
10 papers
4 glitter tiles
4 bows
4 chrome charms
4 ropes
4 rope frames
1 shell frame
5 shell tubes
2 photo frames
3 small flowers
1 flower motif
4 driftwood tags
DOWNLOAD TAGGERS KIT
DOWNLOAD COMMERCIAL USE KIT
Here's a little page I made with the kit